February
16
2017
0

comment
6 Steps of Successful Market Research Process
Market research process can be collated in 6 major sections which every market research project needs to follow to be successful. These are:
Defining the Research Problem & Objectives
Research Design
Data Collection
Data Processing
Data Analysis
Market Research Report & Presentation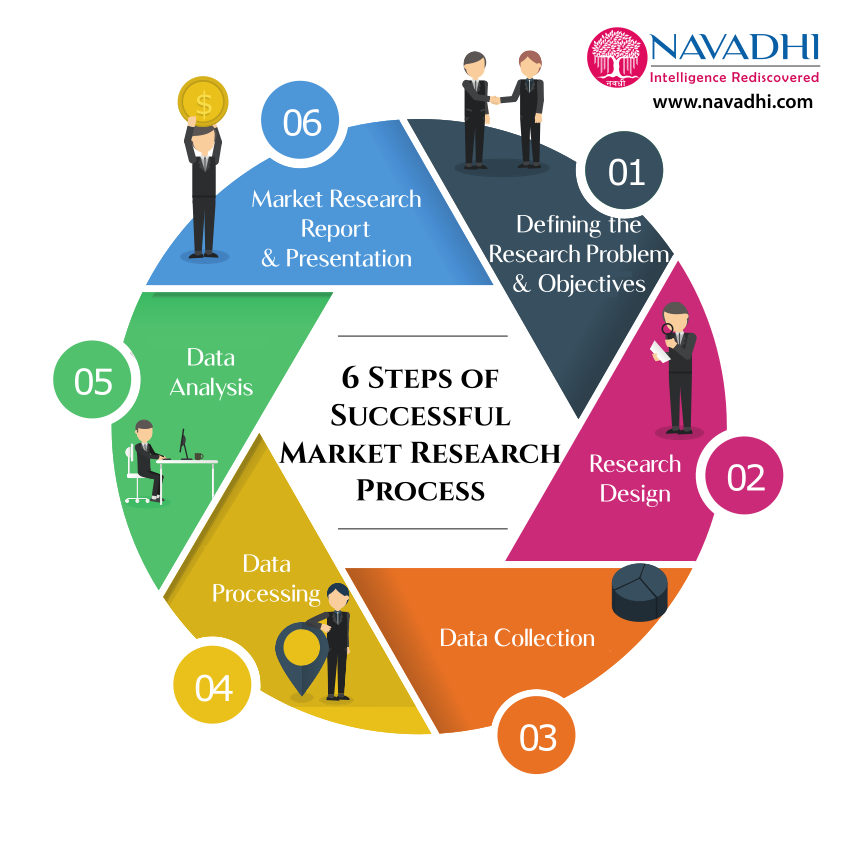 Now let us understand what tasks need to be done in each and every of these steps.
Step 1 - Defining the Research Problem & Objectives
As a business manager, you might have a different problem or issues which you wish to find answers for (for example, your customer's are not purchasing your products/services again). In most cases these problems need to be converted into a research problem so that a proper market research study can be planned to find the solutions for them (for example, you may need to measure your current customer's satisfaction levels for your products/services which can be done using customer satisfaction market research study).
At this stage, it's critical to define the research objectives as well so that you and your market research team (whether in-house or external agency) are clear about what you are trying to achieve via proposed research study. The success or failure of proposed market research hugely depends on how correctly research problems and objectives are defined at this stage. All the decision makers who are going to use the information generated by proposed research should be involved in this activity to ensure no point is missed out.
Tip:
You should always check with multiple research agencies what they propose to solve your business problem. Also take your time defining research problems and objectives to get best result from your research spend.
Step 2 - Research Design
Once you are ready with your research problem and objectives the next step is to do a research design. In this stage all the planning related to the proposed market research study is completed like what kind of research methodology (e.g. qualitative or quantitative) will be used, what data collection tools will be used (e.g. face to face interviews, telephonic interviews, focus group discussions etc.), what geographies (cities, states or countries) will be covered, which team will be working of the project, how data will be processed, what analysis model will be used, project completion time-frame, research budget etc.
In this stage all the material required for data collection is also prepared. For example, if you decide that interviews will be conducted for the proposed study then a questionnaire will be prepared and if you wish to use focus groups for your study then the material for moderators will be prepared.
The questionnaire and other research tools are also checked for effectiveness and updated if needed basis on sample interviews conducted during this stage.
Tip:
You should always test your data collection tools (interview questionnaires, content for moderators etc.) at this stage as it's easy to rectify any issues at this state because later it can be costly and time consuming exercise.
Step 3 – Data Collection
In this step raw data is collected using the research tools identified during research design stage. It can be primary data collection using qualitative, quantitative and observation techniques or it can be secondary data collection using desk research, syndicated data collection and case study analysis.
Tip:
In most of the studies, mistakes are made at this stage which results in wrong insights at a later stage. It is recommended to do data integrity checks regularly (at least on bi-weekly basis if not possible daily) and sensitize the data collection team about the importance of the work they are doing.
Step 4 – Data Processing
Once the raw data is collected (for example, in the form of filled questionnaires, audio/video tapes etc.) it needs to be processed so that it can be analysed by the market researchers. This process in short is known as ETL which stands for Extract, Transform and Load. For example, physical filled in questionnaires need to be loaded into data analysis software properly for quantitative analysis and transcriptions of audio/video tapes need to be prepared for qualitative analysis.
The data processing is done according to the methods finalized during research design step and it is a very structured process.
Tip:
Data processing takes a lot of time if the number of respondents is large. It is advisable to keep processing all the collected data in sequential manner to save time.
Step 5 – Data Analysis
In this stage the data is analysed using suitable data analysis tool(s) defined during research design stage. This helps extract actionable information from raw data which market researchers can use to base their recommendations for solving the research problem.
Tip:
It is very easy to get lost in numbers but the essential element is what those numbers actually mean for solving the research problem. Thus it is advisable to think out of the box and try to understand the analysis for the perspective of end users so that actionable recommendations be presented to decision makers.
Step 6 – Market Research Report & Presentation
In this step, based upon the information collected from conducting market research study is converted into a market research report and final presentation. This included the most important findings from the research study along with the recommendations to solve the research problem defined in first step.
Tip:
Always try to include digestible information in market research report and presentation which can easily be used by decision makers to solve their business problems.